HDfury Vertex2: HDMI Central with 4K 18Gbps Output
Tailored for AV Purists
Its dual HDMI output with full 18 Gpbs bandwidth provides Vertex2 with two independently configurable AV lines for the realization of flexible constellations.

Both lines adapt to the required screen format. The cross connection thus achieved provides the option of displaying any input signal in an optimal way on any monitor. This intercompatibility enables the use of older screens together with new 4K capable displays without any restrictions.

Vertex2 features the unique ability to physically separate all outputs over software. This way, active signals from the source device do not affect the monitor's switch-off behavior. An effective way to economize power. A monitor or TV set also switches itself off when a 5V signal is present in standby mode.
TMDS Switching enables the switching of e.g. an Android TV stick despite an active 5V line.

Vertex2 provides four HDMI inputs which can process various 4K HDR formats with up to 18Gbps for every video and audio format in use. Vertex2 always runs in matrix/scaler mode, ensuring optimal operation of the setup. The two HDMI outputs share the work: While one output always passes the input resolution up to 4K HDR, the other output scales the signal down to the format of the display.

The configuration is easily accomplished by the embedded web server and can be accessed from any device via any web browser.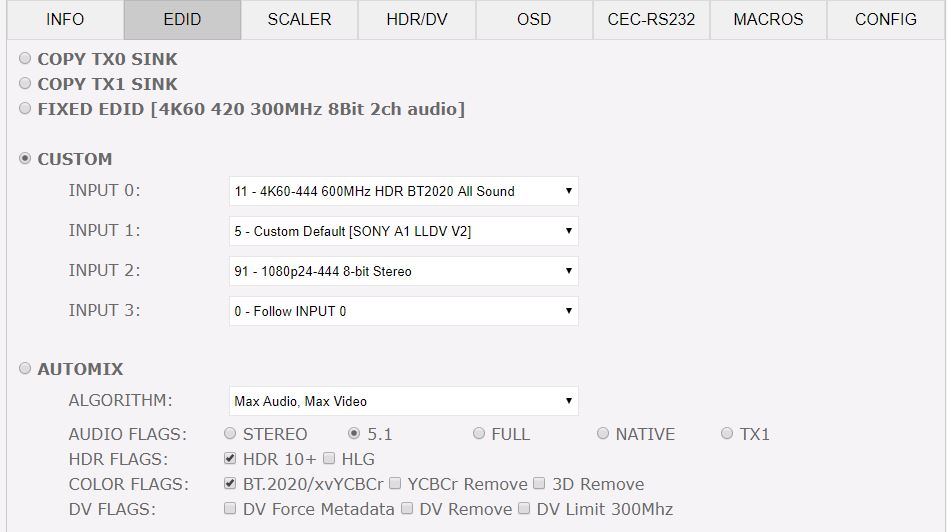 Vertex2 Key Features
Two 4K 18Gbps outputs for 4K with HDR and max.18Gbps, including format scaling for the connected display.

TDMS autoswitching for active video signal detection.

Software-based option for physical separation of AV outputs.

Audio extraction from ARC and eARC signal.

Numerous features in one device: e.g. up/down scaling at all 18G outputs, HDCP converter, audio de-embedding, EDID management, CEC control, color depth/color space conversion, test pattern generator.

WebGUI for control, settings and programming via IP from any device with web browser.

Injection and extraction of HDR metadata.
Vertex2 Tailored for AV Purists. Now available from stock. Order withNext Day Delivery Service.
Back